Development
tailored systemS at a lower cost
Our platform gives you a tailored system in half the time. You get a system that is fully adapted to the specific needs of your application. Using tested and tried function blocks and templates, the time for development and testing is cut by 50%.
Performance & precision High technical performance for precise control and tough requirements.
Reliability Developed for demanding applications and environments.
Cost-effectiveness Develop your control system faster and more efficiently using Hydratronic's development platform.
Features:
CAN bus.
PWM control for precise control of valves and hydraulics.
Electronics adapted for demanding environments.
Standardized, configurable I/O.
Efficient graphical programming with function blocks and templates
CANmasterTool is a Windows-based graphical programming tool that handles everything from application development to service and maintenance of machines and systems that are already in operation.
The programming tool allows manufacturers to create a tailored control system with optimal fit for their own machines, applications and use cases. All ready-to-use function blocks and templates are based on actual systems developed by Hydratronics for various customers and applications and have been tested and verified in real operation.
With CANmasterTool, both graphical and text-based programming can be conducted in parallel and both types of source code can be mixed in the same project.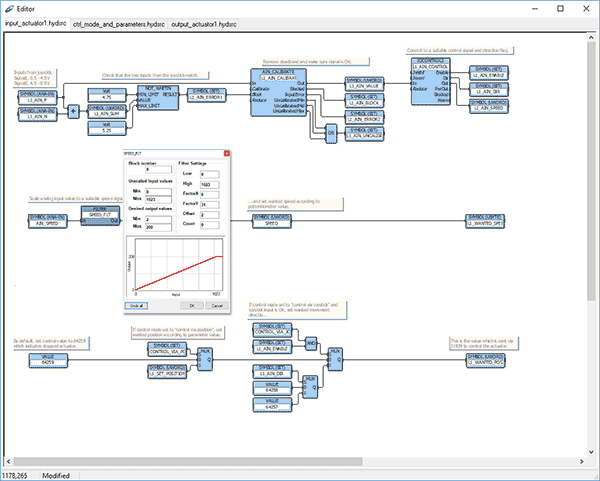 CANmasterTool, Develop edition, also includes simulator for testing all or parts of the system. Here you can test a complete system in real time, isolate individual instructions or program loops, or run the program line by line. The simulator makes development work even more efficient and safer.
CANmasterTool, Service edition, is a software version designed for service technicians and does not provide access to the development functions.
CANmasterTool features:
Configure the different controllers that are included in the system. *
Configure I/O for different devices. *
System design with access to templates and function library. *
Program features for making custom macros. *
Simulation of all or parts of the system, with logging of values. *
Design of the terminal's graphical interface, menus and icons. *
Calibration of sensors.
Logging of I/O during simulation or actual operation.
Version management.
Documentation of programs and configurations. *
Troubleshooting.
Downloading and uploading of control programs and parameters.
* Not included in CANmasterTool Service edition.
Production
Our manufacturing is quality assured according to the IPC standard and is based on modern SMD technology that reduces the number of fault sources and allows manufacturing in varying production volumes.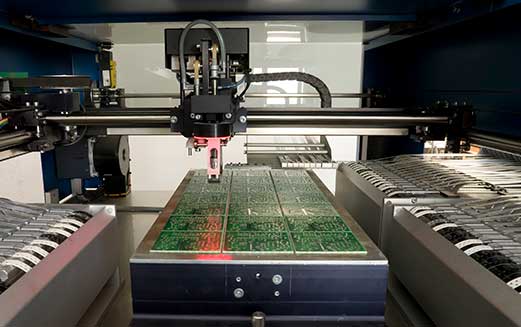 SMD production means fully automatic manufacturing where the components are mechanically placed on the circuit boards for simultaneous soldering. After soldering, an automatic optical inspection (AOI) and a function test are performed before the boards and connectors are mounted in the control unit. Finally, the finished unit is function tested before packing.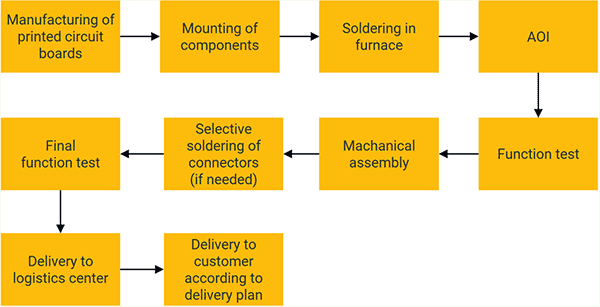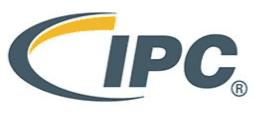 Delivery
World-class logistics
Hydratronics is part of the KGK Group and uses group-wide functions for ordering, delivery and logistics. This gives us and our customers access to economies of scale and highly modernized systems at a low cost.
All our products are delivered from our 33,000 m2 logistics center in Enköping, Sweden. All items are marked with barcodes and much of the handling is automated. This provides efficient handling with a very low risk of incorrect picking and incomplete deliveries.
We deliver as ordered, such as with rolling delivery schedules.
All items have barcode marking.
75% of all orders are handled automatically.
Minimize your inventory with deliveries tailored for just-in-time production.
Aftermarket
Full control over spare parts and aftermarket
We are a stable and long-term company. With us as your partner, you can rely on access to spare parts for all our products and systems throughout their service lives. The phasing-out of products is always controlled and with long-term planning.